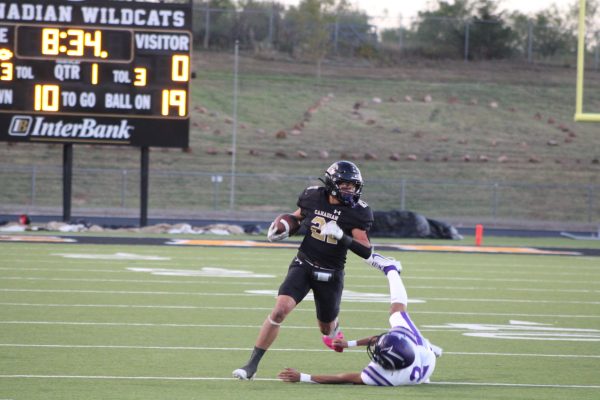 Last Friday the Canadian Wildcats played the Childress Bobcats and won 63-21. The Wildcats started off very strong in the first quarter with Flowers doing a 57-yd run for a touchdown. Neumeier then ran a 33-yd touch down with a pass from Cavalier. Then Crooks had a 1-yd touchdown. In the 2nd quarter Flowers had a 33yd pass/ Cavalier, Davis had a 13yd pass/ Cavalier. In the 3rd quarter Flowers had a 12yd pass/ Cavalier, Davis had a 13yd pass/Cavalier. Then finally in the 4th quarter of the game Cavalier had a 5-yd run, then Dumbauld had a 56yd INT return. 
     Camden Cook had several big pass breakups and Max Dumbauld made a big play with his interception that he ran for a touchdown. The defensive line had several sacks lead by Nathan Wagner and Julius Gonzalez with two each. On the offense once again, the linemen leads the way opening up a lot of gaps in the line and did a great job protecting the ball. 
Story continues below advertisement
     The MVPs for the game, according to Athletic Director and head coach Andy Cavalier, were be Kaden Crooks with 22 rushes for 127 yds and 2 touchdowns, and Camren Cavalier with him going 23 of 37 for 264 yds with four touchdowns and added another 129yds on 14 rushing attempts and of course the boys on the line.
      "We always have plenty to get better at. Friday night we gave up more big plays then we would like," Coach Cavalier said.
      Coach Cavalier also said he thought the game was similar from last year but even then, he thought the other team played well. 
     "Childress is always a hard beat and this game was no different. They have a great program and always are a challenge."  
    The Wildcats take on the Spearman Lynx Friday at 7 p.m. at Wildcat Stadium.