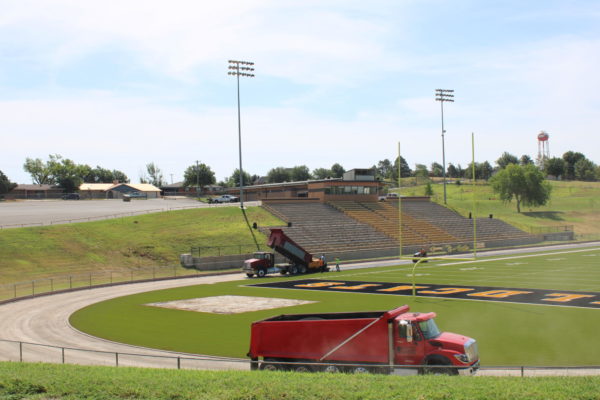 With the constant repairs and postponements, there are many questions about the new track, including 'Will it be ready before the first home game?' Short answer: no.
            According to Superintendent Dr. Lynn Pulliam, the original plan for the track was to replace only the rubber track surface, and the entire project to be finished before school and at the very least our first home game. However, after removing the track inlay, further damage was found to the asphalt itself.  The asphalt was tested, and the entire project had to be reassessed and a remedial plan was proposed by the construction company.
            "That proposal caused the total cost to exceed the approved price, thus a change order was required for the Board to consider the increased cost of the asphalt repair," Pulliam said. Once this passed, the renovations could proceed.
Story continues below advertisement
Unfortunately, due to the limited timeframe, the unexpected issues made it impossible to finish the project before this football season, he said. Currently, construction is only going on in the mornings to allow football practices in the afternoon. Soon, practices will not be able to continue as normal.
The final installation of the rubber track surface is expected to land on football's open week (September 17-23), therefore the field can't be used at all for at least five days. During this time, football practices will take place on the junior high field by the middle school, the old practice field south of the weight room, and the discus practice area as needed, Athletic Director Andy Cavalier said.
The band will follow suit, according to band director Mr. John Zalman. No major issues involving band rehearsals have occurred so far, and Zalman plans to simply move rehearsals to the high school parking lot during open week.
Afterwards the field will look better than ever, Coach Cav said. The scoreboard has already been revamped, and now there will be a track to match. Once finished, the new lanes will feature black rubber with yellow demarcations to honor the school colors and the legacy of Wildcats.